What You Need to Know About India's First IoT-Based Conventional Fire Alarm Panels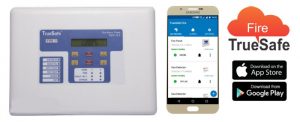 Fire alarm panels have been around for a while, and we are happy to be the first to make a breakthrough by bringing the first IoT-based conventional fire alarm panels to India!
Traditionally, there are two types of panels – conventional and addressable panels. While our addressable panels are ideal for factories, industries, control rooms, and even airports, our conventional fire alarms are designed to suit smaller spaces such as offices, warehouses or stores.
Addressable fire alarm systems allow you to pinpoint the exact location of a fire, whereas conventional do not, which is why they are used in smaller spaces. One thing that sets our IoT-based conventional alarm panels apart from the rest is that it uses Wi-Fi to connect with the cloud, which provides real-time, immediate alerts on mobile devices in case of a fire or emergency. It will also alert all of the involved stakeholders via messages on mobile applications so that problems can be immediately rectified, and disasters are averted.
They also feature a futuristic design that blends perfectly with any space. What's more is that these panels offer single battery backups, which means reduced battery costs! Fully equipped with dual fire LED indication, these panels provide alerts in case of Zone Fault, Siren Fault, and Battery Cuts.
To give you a complete understanding of these nifty devices, we will be stating some of the key features of this IoT-enabled conventional fire alarm panels.
Compatibility:
One of the key features of this panel is its ability to comply with a range of different communication technologies. It is compatible with LoRa, RF, ZigBee, GSM, Wi-Fi and NB-IoT.
Support:
This alarm panel features firmware integration support. What Firmware Integration Technology does is that it simplifies the embedding peripheral function module drives. This makes way for portability between RX microcontrollers, which in turn decreases the load of program development and software resource management in the realm of software development, by utilizing the RX family.
Sensors:
Since this is a conventional fire alarm panel, it is connected to multiple devices and sensors which work in tandem to secure a structure. These intelligent sensors have various triggers that will all send out an alert if there is abnormal activity detected.
Some of these sensors are humidity sensors, gas and water metering, temperature sensors, noise and sound sensors, occupancy motion sensors, air quality sensors, fire and smoke sensors, and location sensors. Essentially, this includes your gas detectors and smoke detectors. If these sensors are activated, the alarm panel will automatically trigger fire suppressant systems.
IoT Gateways:
Our IoT-connected conventional fire alarm panel also features a data logger to support IoT gateways. From processing functional data from industrial machines to centralized operations which enable the administration of utility systems in multi-location establishments, the panel is designed to make the best use of data. It also logs data related to the space such as occupancy, utility systems, utilization, environment, and even air quality monitoring. All this is critical for business parameter monitoring.
We are excited to bring this innovative new product to Indian markets since it can help avert major disasters with the use of superior technology. Easy to use and maintain, our panels are designed for anyone and everyone to operate.
Want to make your establishment a truly safe space? Contact us to know more.
Contact Details
Mobile +91 9011033260, email: sales@vighnaharta.in