BinConnect – An IoT-Enabled Waste Management Solution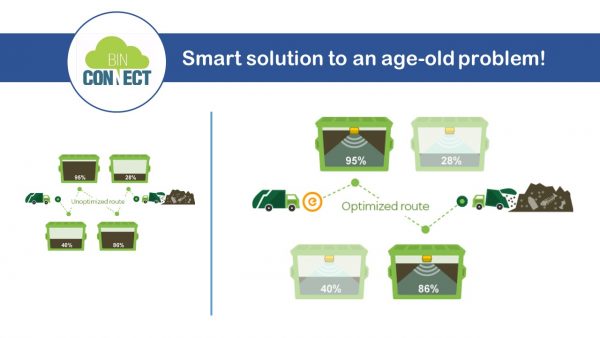 There have been very ambitious plans which have been drafted by the government of India, in order to make the country livable and clean for all.
One such initiative is that all rural homes are to receive piped water by 2024, as per the Jal Jeevan Mission announced by PM Modi. This will be a 3.5 lakh crore mission and aims to eliminate the need to walk for kilometers just to get access to drinking water.
Alongside is the Swachh Bharat Mission – a nationwide imitative to clean up India's act, and to set up sustainable systems to support a clean India. There have been numerous innovative contributions by brands under this initiative, such as machines to eradicate manual scavenging, methodologies, and practices that encourage recycling, and so on. The focus is also to let the entire movement be a people's movement, wherein everyone in the community contributes their part to make the country a cleaner place to live for all.
A huge problem that plagues our country is waste management. We thought it would be best to do our part and contribute to the movement with our IoT-enabled BinConnect solution – a battery-operated device with an array of features that makes waste management easier.
About BinConnect:
Our contribution to the Swacha Bharat Movement is our IoT enabled sensor specifically for waste management in large cities and smart cities.
Our latest innovation available on the market as BC-300, is an IoT-enabled solution built to fit the Swachh Bharat standards.
This solution has been recognised by the Dept of Scientific & Industrial Research, Govt. of India (ref. No.: ​TU/IV/-RD(3616)/2017) under its Swachh Bharat Mission.
BinConnect meets all of the requirements of a Smart City Solid Waste Management system. The BinConnect is a battery-operated device which has a fitted GPS module that can be used to track the position of mobile bins.
Here are a few features that one can expect with the BC-300.
Smart cities and waste management
Since India is home to a few emerging smart cities, the implementation of technology to combat concerns with waste management is imperative. Technology for waste management includes automated waste collection, which is made possible by BinConnect sensors. Our IoT sensor can be fitted on bins across smart cities. These sensors trigger automated alerts every time a bin is almost full so that one can plan the route for pick up. Route optimization can save resources and the environment, which is why it makes sense to invest in such advanced systems which are dedicated to optimisation. The idea is to plan routes when all of the bins are full, so that multiple trips may be avoided.
What's to gain from using BinConnect?
Savings in terms of resources such as fuel
Streamlining of trips and routes to avoid unnecessary, extra trips
Elimination of early collection and avoidance of extra charges, for example, if bins are not full, and a trip is made, it is a waste
One of the most important benefits of Bin Connect is the safety feature. Community bins located at remote places may catch fire due to various reasons. The BinConnect solution provides continuous monitoring of the bins. In case the temperature inside the bin goes beyond normal levels, the solution raises the alarm. The alarms help the central control station to take measures proactively and avoid any mishap.
A look at some of the key features:
It is a battery-operated device
6 V high-performance lithium battery
Application software to provide location services and garbage level details on cloud/central server
It features an in-built temperature sensor and an optional RS 485 port that can integrate weighing scale data
All programs on BinConnect are available on the Cloud providing continuous connectivity
BinConnect comes with IP65 grade enclosure which makes it waterproof
24X7 access through BinConnect cloud services
Besides this, ultrasonic fill-level sensors ensure that bins are not overfull beyond capacity. They are also built with GPRS/GPS based-communication gateway systems.
Possible Applications of BinConnect:
Smart cities have the most to gain from wide-scale adoption and early implementation of smart bin sensors like ours.
But it's not just smart cities, residential complexes in smaller towns also have a lot to gain from Smart Bins. Even the individual standalone buildings, office spaces, malls, hospitals and any other commercial establishment which deals with large amounts of waste that needs to be picked up on a regular basis could have a lot to gain from implementation of smart bins.
Smart Bin technology has already been in use in developed nations such as the UK and has yielded positive results.
High-tech food recycling bins installed across South Korea have led to a reduction in food waste production of around 10% in the capital city of Seoul. India is one of the fastest-growing economies today and is undergoing a massive digital transformation, especially with regard to Smart Cities. Smart Bin integration is a big piece of the puzzle and will help cities achieve sustainable and intelligent solid waste management solutions. To understand our product better or to have any questions answered, contact us.
Contact :
email: sales@vighnaharta.in
Mob.:- +919011033260