What Causes An Electric Fire (And How To Avoid It)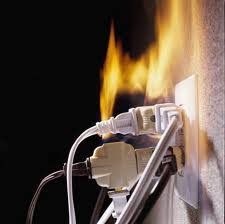 Did you know? According to data by the Central Electricity Authority (CEA), 40% of deaths at the workplace happen because of electrical issues. Electrical malfunctions are the third most common cause of fire breakouts in residential buildings. The maximum fire breakouts happen during the winter season due to the heavy usage of heating devices and monsoon season due to thunderstorms and lightning. The fire breakouts can be fatal for the inhabitants. The loss of lives and property causes irreparable damage to the affected. But, the good news is that electrical fires can be prevented easily with few precautions.
Let's look into the major causes of an electrical fire in a building and how to prevent it:
Old and worn-out wiring and sockets
More often than not, old wiring or an old switchboard sparks a fire breakout in abuilding. Living with old wiring and sockets is the biggest mistake people often commit. Just like the paint of the building, wiring and sockets need timely repairs. How to know when it is the time to change the wiring system? It is when you notice a fluctuation in frequency, flickering of lights or sparking while plugging the devices into the sockets. These issues are more prominent in very old buildings. The fire breakouts due to old wiring can be prevented by maintaining and replacing the depleting electrical systems every ten years.
Old appliances with frayed cords
People often commit the blunder of using appliances with frayed cords to save money until the moment where the appliance gives up. Using electrical appliances with frayed cords can be hazardous. The sparking from the worn-out cord can result in a fatal fire in the building. It is advisable to replace the cord the moment it shows sign of any wear and tear. To prevent a fire breakout, always keep a check on your appliances and their cords. Replace old appliances that pose any threat of a fire breakout.
Ignoring the wattage instructions
The wattage of an electrical appliance and lighting system is the most commonly neglected thing. Ironically, it is the most important thing to pay attention to. Light bulbs and other electrical appliances should be used appropriately to match their wattage instructions. Plugging in a high wattage appliance or light bulb in a socket that doesn't support it, is bound to cause a short-circuit which may result in a fire. Always make sure that the wattage of the socket and the appliance are compatible.
Inappropriate use of extension cords
Everybody loves extension cords, but very few use them to serve the purpose they are meant for. Connecting hoards of devices at once can be dangerous. Extension cords are not meant to support appliances with high wattage. Follow proper safety measures while using extension cords. Avoid plugging in large appliances for longer periods. Extension cords were created for emergency purposes, and that is how it is supposed to be used. Keeping your devices and appliances plugged into the extension cord 24×7 is not advisable.
Common sockets
The most neglected reason for a fire breakout is simultaneous use of appliances in a common socket. Using two large appliances together increases the load on the socket which it may not be able to sustain. It is advisable to not use two large appliances at once in the same socket. For example: Don't plug in a microwave and a grinder into the same socket.
Not switching off appliances
How many times have you forgotten to turn off the geyser or iron while heading out in a rush? Well, we all have done it at some point in time in our lives. If it didn't result in a fire breakout, thank your stars. Forgetting to turn off the appliances after use is a very common cause of fire in buildings. No matter how much late you are getting, always remember to check all the appliances and devices before stepping out.
Plugged-in electrical appliances
A very few people have the habit of plugging out devices before going to bed. The habit proves beneficial during a thunderstorm or lightning. It is always a good idea to unplug electrical devices when left unattended. A plugged-in device during a thunderstorm may cause a fire in the building. Make it a habit of unplugging all electrical devices when they are not in use. It helps in avoiding unforeseen short-circuits due to bad current.
Fire due to an electrical issue can be easily avoided by following a few precautions. Always keep a check on your wiring system and the condition of your electrical appliances. It takes only this much to prevent an unforeseen fire in the building.
Contact Details:
Mob.: +91 9011033260, Email:- sales@vighnaharta.in